There are probably two immediate questions you have on your mind when thinking about billing and revenue. How do I charge my customers? and where do I see customer payments come in?
Adding a payment method 
Firstly, you'll want to decide which payment method options you would like to make available to your customers.
Payment methods can be integrated into your TeamUp dashboard via Settings >> payments and then 'Manage payment methods'.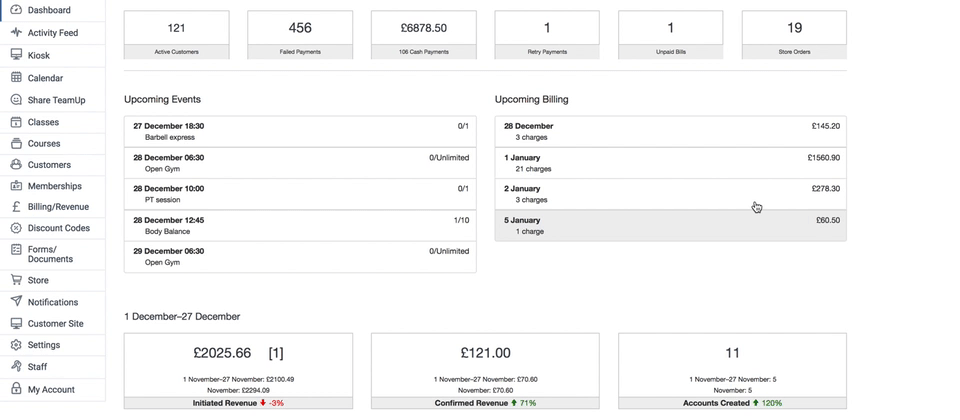 There are two payment methods we would suggest using over any others
GoCardless - great for direct debit payments, and offer the best transaction fee of all our payment processor partners at 1%.
See GoCardless-what-how-why for more info.
Stripe - Ideal for credit and debit card payments, with a transaction fee of 1.4% + 20p.
See Stripe-what-how-why for more info.
The other payment method you may want to integrate is cash. This is great for offline payments, which are settled between your business and the customer.
Just click integrate on any payment method you would like to use:
Now you have your payment methods in place, your customers can make purchases on your TeamUp site.
If you have multiple payment methods integrated, then your customers will be able to choose their preferred payment method when making a purchase.
Viewing your billing and revenue 
To see payments, go to section Billing/Revenue. Here you can track activity for all your payments
Payouts  - this is where you can payments that have been disbursed to your bank account. For more information, see Payouts.
Upcoming billing- See all upcoming payments due over the next month.
Pending billing  - See all payments that have been initiated by the payment processor, but not yet confirmed.
For online payments, they will move from pending to disbursed automatically.
For offline payments i.e. cash payments, they will need to be confirmed by you, once you have received payment from the customer.
Refunds - Refunds handled outside of TeamUp (for example, via cash) will sit in this section until they have been confirmed.
This section will only show up on the menu if there are any pending refunds. Once confirmed, it will disappear from the menu.
Failures - View/resolve failed payments. 
This section will only show up on the menu if there are any failed payments (for example, a payment might fail due to insufficient funds in the customer's bank account). Once resolved, it will disappear from the menu.
Reports -  See all confirmed payments, as well as refunds.
Here you can see a report on payments within a given date range, as well as filtering for individual purchase types.
You can also export this report for further analysis, or you may even want to share this with your accountant. Just click 'download csv'.